What To Read–Quarantine Edition #5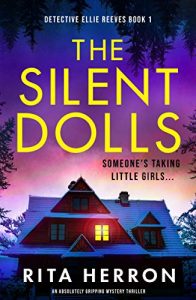 The Silent Dolls (Detective Ellie Reeves series)
by Rita Herron:
Book one in this new series from Rita…so you can get in on the action right from the start. (You will also have time to read her extensive backlist, if you're not already a fan—which you should be!!)
I loved this book. The breadcrumbs are small, but I like to think I can figure out the killer with even the tiniest of hints along the way. Not so with this book. I vacillated not so much between which character did it, but how the secrets each character had buried tied in with the killer. I sort of had it figured out, but was still surprised when the killer was revealed—a very "ahhhhh, now I see" moment. And while I was fixated on figuring out whodunit, I assumed I knew Ellie's secret, and didn't give it much thought. You know, the "oh, right, she's x-y-z"—you fill in the blanks—and moved along to the real mystery. WRONG! That was the biggest surprise twist of them all! And, Rita, if you're reading this—I love the way you ended the book!!
Anyway, all of this to say, go start this series before the next book comes out at the beginning of December. You will thank me (Which, feel free to leave a comment or two…I get lonely over here sometimes).
Silent tears trickle down her cheeks as she curls inside the tiny cave-like space. She lies on her side, darkness all around her, rubbing her fingers over the little wooden doll he'd carved. He told her to be quiet, not to cry or scream. Not to be a baby. Her throat was raw, her eyes swollen shut. She wanted her mommy and daddy. She wanted to go home.
When Penny Matthews, a seven-year-old girl with blonde curls and a gap-toothed smile, goes missing in the Appalachian mountains, Detective Ellie Reeves is called straight to the scene. According to Penny's parents, their daughter vanished after a picnic by the creek. All that's left behind is a pink friendship bracelet etched with "Penny".
Ellie knows all too well that the mountains' endless miles of dark forest and winding rivers are the perfect place for a criminal to hide. Racing against the rapidly setting sun and a brutal winter storm on the horizon, she searches desperately for Penny. And when she discovers the remains of a small body buried with a carved wooden doll, it's clear she's up against a deadly serial killer preying on innocent little girls.
As the temperature plunges, Penny's life hangs in the balance. Most people who get lost in the woods never make it out alive. Can Ellie defy the odds and find out the truth about all the stolen girls? Or will the mountain, and its twisted killer, claim another victim?
A totally gripping and utterly addictive new crime-thriller series for readers who love Lisa Regan, Kendra Elliot and Melinda Leigh. Prepare to stay up way past your bedtime – but be warned: you'll be scared to turn the lights off after you've raced through the pages.
© Copyright 2021 | All rights reserved by Leanne Kale Sparks