What To Read–Quarantine Edition
So, I've been reading a great deal in the past couple of weeks because, well, I have a lot of time on my hands. Also, being around family 24/7 is challenging and everyone needs an escape. I love thrillers—which is why I am writing them (more on that to come soon). So, here's some of my recent favorites: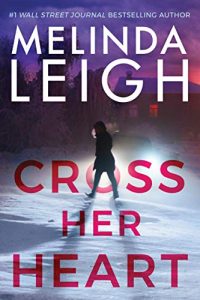 Cross Her Heart (Bree Taggert Book 1)
By Melinda Leigh:
This is the first book in Melinda's new series. She is a favorite author of mine, mixing romance and mystery and murder. I loved her Morgan Dane series—and not just because it featured a female criminal defense attorney. This new series is jumping off to a great start, and I am eagerly awaiting the next installment.
A homicide detective's violent family history repeats itself in #1 Amazon Charts and Wall Street Journal bestselling author Melinda Leigh's novel of murder, secrets, and retribution.
For more than twenty-five years, Philadelphia homicide detective Bree Taggert has tucked away the nightmarish childhood memories of her parents' murder-suicide…Until her younger sister, Erin, is killed in a crime that echoes that tragic night: innocent witnesses and a stormy marriage that ended in gunfire. There's just one chilling difference. Erin's husband, Justin, has vanished.
Bree knows how explosive the line between love and hate can be, yet the evidence against her troubled brother-in-law isn't adding up. Teaming up with Justin's old friend, former sheriff's investigator and K-9 handler Matt Flynn, Bree vows to uncover the secrets of her sister's life and death, as she promised Erin's children. But as her investigation unfolds, the danger hits close to home. Once again, Bree's family is caught in a death grip. And this time, it could be fatal for her.
© Copyright 2021 | All rights reserved by Leanne Kale Sparks